SteadyRack - Swivel Wall Mount Bike Rack
A Truly Unique Bike Storage Device
Space saving - The Steadyrack can be mounted on to any wall and conveniently 

swiveled 

to either side. SteadyRacks can be installed side-by-side or dotted around the garage or even overlapped to store multiple bikes. And once the bikes are up on the wall, you can easily drive your car in to the garage or move around the space without tripping over obstacles.

No heavy lifting required - unlike other racks where lifting off the ground is required, anyone can place the bike in the guide and using a pushing and pulling action let the Steadyrack do the work.

Safe and easy to use - Virtually no risk of bikes falling over or falling out of the rack which makes it safer to use, versatile and it won't damage valuable property like cars or other bikes. It simplicity makes it ideal for whole family and the unique patented design enables you to store your bike with minimum effort and best of all you don't have to worry about moving bikes out of the way or trying to hold onto adjacent bikes while you try and remove yours. The pivoting action allows you to make space and easily remove your bike. Even the kids can do it without adult supervision.




Folds Away - When the rack is empty it folds up and clips into place removing any risk of someone injuring themselves walking into it.
4 Models of the SteadyRack are available.
(This product is limited to remaining stock)
Standard (Tires up to 2.4 inches wide and 20-29 inch diameter)
MTB Mountain Bike (Tires 2.1-2.8 inches wide and 20-29 inches in diameter)
Fat Tire (
Tires 2.4-5.0 inches wide and 20-32 inches in diameter)
Fender Rack (
Tires 2.1-2.4 inches wide and 20-29 inches in diameter)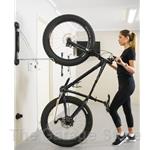 Fat Tire Rack
A-G11002
10.00
SteadyRack, Fat Tire model.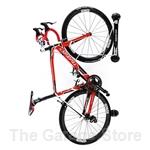 Classic
A-G11000
10.00
Out of Stock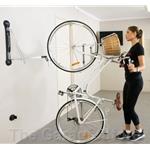 Fendered Bike Rack
A-G11001
10.00
Out of Stock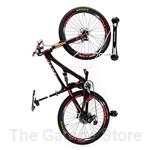 MTB Mountain Tire Bike Rack
A-G11003
10.00
---
Customer Reviews