Garage - Shop Creepers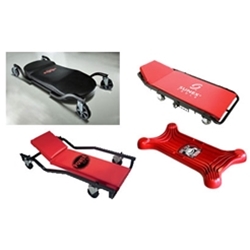 There are few things better than some quality time working on your favorite set of wheels. Enjoy that time even more when you can also be more comfortable while doing your work or detailing your ride. Our Mechanic Creepers, Creeper Seats, Garage Stools and Rolling stool products are all about making your work time easier, safer and more comfortable.

Our Mechanic Shop Creepers enable really low rolling heights and easy rolling with available larger wheel sizes. Our Creeper Seats and Garage Stools also feature special configurations like our low riding Detailer Seat or kneeling Racatac Seat.