Parts - Tool Organizer Tray for Slatwall Wall Storage
This product qualifies for quantity discount pricing.
(
what's this?
)
Here's a small general purpose organization tray, we think it works great as a tray to hold your power tool battery chargers.

Available in Gray, Black and Clear.

Dimensions:  17.0 in. wide x 11.0 in. deep x 1 in. high




Non HandiWall panel users note:

  HandiWall brand panel accessories will work with any Slatwall - slot wall system with a standard 3/8 inch high  slot and 3 in. on-center slots unless specifically noted.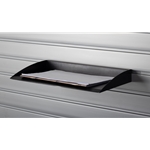 HW-S-HSW4007P
HW-H-HSW4007P
1.50
HSW1267
HW-H-HSW4007P
1.50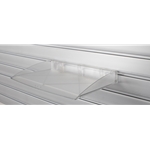 HSW1207P
HW-H-HSW4007P
1.50
---
Customer Reviews