12in. Diamond Plate Aluminum MaxTile - Floor and Wainscotting
MaxTile F1™ is the only self-adhering wall/floor tile available  with real Aluminum Diamond Plate metal.  MaxTile F1™ works great as a floor tile or on the wall as decorative background or wainscoating. 

An assortment of colors allows endless possibilities to custom design your own wall/floor.

To use as a wainscoting, go 3 to 4 tiles high. Each tile is 12in x12in. for easy measuring.  Use our Diamond Plate Aluminum Base Moldings and Diamond Plate Aluminum Corner Protectors shown below to take the look even further. MaxTile F1™ is made with real commercial grade Aluminum Diamond Plate - not imitation stamped metal used by others.
All aluminum construction means MaxTile F1™ will not rust rot, corrode or degrade.  You can cut MaxTile™ with a jigsaw, circular saw or band saw and use a cutting blade designed for sheet metal (fine tooth blade). With MaxTile F1™ there are no toxic fumes, and no mess to worry about. MaxTile™ is resistant to oil, grease, petroleum products, antifreeze and most household chemicals. No maintenance required. To clean, just wipe off.

We sell MaxTile F1™ with a Peel N' Stick backing for a quick, trouble-free, fume-free installation.  If you have a requirement for bare back tile to be installed  via construction adhesive or grout, it is available in bulk.  Contact us for more details.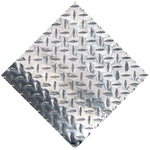 DIA-HMT12.SIL
DIA-HMT12
1.00
12in x 12in Real Diamond Plate Aluminum Tile - Liquid Silver (Polished)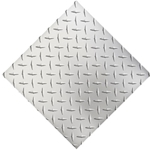 DIA-HMT12.PI
DIA-HMT12
1.00
12in x 12in Real Diamond Plate Aluminum Tile - Platinum Ice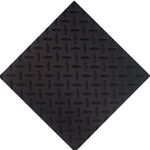 DIA-HMT12.BLK
DIA-HMT12
1.00
12in x 12in Real Diamond Plate Aluminum Tile - Liquid Silver (Polished)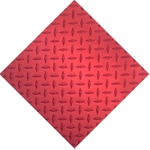 DIA-HMT12.RED
DIA-HMT12
1.00
12in x 12in Real Diamond Plate Aluminum Tile - Liquid Silver (Polished)
DIA-HMT12.BLU
DIA-HMT12
1.00
12in x 12in Real Diamond Plate Aluminum Tile - Liquid Silver (Polished)
---
Customer Reviews