Diamond Plate Aluminum 46 in. Pegboard Organizer
DIA-HPB2448.DP
Organize your tools quickly and easily with the PegBoard X2™. Rated for over 300lbs!. The convenient design provides organization and easy access to the tools and accessories you use most often, and features heavy-duty all metal construction. Looks great, works even better! All 4 sides are flanged 3/4in. for rigidity and clearance of peg hooks. .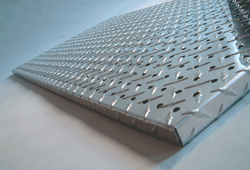 Installation is a snap by driving a screw (designed for your mounting medium) through a pair of the pegboard holes and using the included spacers. No additional framing required. Much more durable and rugged than traditional pressed wood peg boards. All standard peg-hooks 1/8in. and 1/4in. will work with our X2 Pegboard. No assemly required, comes ready to mount..
Dimensions are 45.5in wide x 21.5in. wide.
---
Customer Reviews